A Well-Conceived Capstone Project Is a Potent Opportunity
Thursday, November 8, 2018TOPICS: Global ImpactStudent Success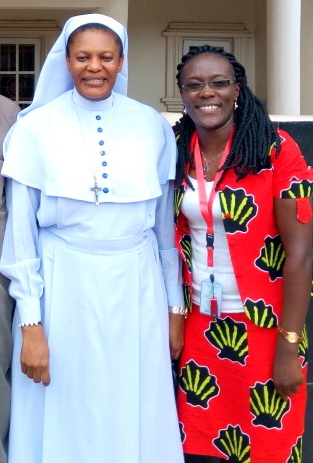 The following post was written by Jane Wanjiru Kinyua, a second year Master of Arts in Peace and Justice student at the Kroc School.
Driving on a warm Wednesday afternoon along the wide roads of the Federal Capital Territory surrounding Abuja, Nigeria, I started a cordial conversation with Sister Agatha Ogochukwu Chikelue, Executive Director of the Cardinal Onaiyekan Foundation for Peace (COFP) and alumna of the Kroc School. I am a firm believer that every moment is an opportunity for learning irrespective of whether the moments are spent babysitting a child or watching the sunset. After all, we can learn a lot just by observing.
So, when I arrived in Nigeria, my first visit to West Africa, I decided to capture all moments and learn as much as I could – from what was said, what was left unsaid, and what I observed. Above all, I promised myself not to shy away from asking questions, and this became an endless source of new insights during my stay.
Learning Through Asking Questions
As Executive Director, Sister Agatha had a tight schedule, but she always made a moment available whenever one knocked at her door. I chose to address official matters with her during those moments, but always looked forward to less formal interactions where I could learn from her experience in a casual setting.
So, when a moment to take a ride in a car with her presented itself, my naturally inquisitive nature put its best foot forward. I asked her about the socioeconomic situation of Nigeria, the cultural conflicts I had experienced, the history of Abuja as the federal capital (it had little traffic congestion, in contrast with many African cities), and the challenges she faces as a woman in leadership working in the area of peacebuilding, among other questions.
Moments like this became an excellent opportunity to learn about almost anything. I used them as opportunities to interact and seek her wise counsel on challenging issues that I had encountered in my career before joining the Kroc School. She was generous with information, and as time went by, I started asking her questions that were of interest to me as a student.
The Capstone Project Question
"Sister Agatha", I drew her attention, "having been a Kroc School student and now a peace practitioner, what would you advise the students to consider when preparing to write their capstone projects?"
Her response seemed like a mental guide on how to move from generalities to specifics. I found her response insightful, and I committed to sharing it with the Kroc School community for current and future use. For those focusing on Applied Peace Capstone projects, below is the summary of her tips, dos and don'ts, coupled with the knowledge I generated from my internship experience.
Tips for Applied Capstone Project
Let your capstone project be a response to what is happening in specific parts of the world.
Choose a thematic area of focus that you are familiar with, which interests you, and which is of relevance to you.
Then, situate your capstone project within a particular region, situation, place or community. That way, you will naturally develop more points of entry not just for further research, but also for implementation.
Keep in mind the possibility of implementation and tailor your capstone project so as to guide that implementation, whether by you or another individual or organization.
Address real issues that require intervention.
Keep the bigger picture in mind. Perceive your capstone project as a piece of work which is contributing to the global knowledge base and from which other future scholars can borrow insights. Give it the seriousness it deserves.
Make maximum use of your faculty advisors; share with them the bigger picture that you have and, that way, they can be a great resource in helping you organize your ideas.
Avoid being abstract; propose tangible solutions.
Do not make your capstone project vague/ambiguous — rather, be specific.
Avoid waiting until the last moment to start working on your capstone project. Rather, begin designing it early.
Have the impact your work would create in mind, imagine how things could be done differently, and explore suggestions that can result in creating the change you want.
Look at the capstone project not as a substantial overwhelming task, but as an opportunity to share the work you would like to do after graduation and put your ideas on paper. That way, you will enjoy the process of developing your capstone project.
Possible Opportunities That Can Come From a Capstone
Caption: Jane Wanjiru Kinyua and Sister Agatha stand with team members of Cardinal Onaiyekan Foundation for Peace.
After sharing her capstone guidance, Sister Agatha emphasized the opportunities that a well-written capstone can offer after graduation, including work opportunities. At this point, she revealed that one of the major programs at Cardinal Onaiyekan Foundation for Peace (the one I worked on during my internship) had first taken form in her capstone project. Under the guidance of Dr. Ami Carpenter, her faculty advisor, Sister Agatha tried to make her capstone as practical as possible with the hope of implementing it one day. She is living proof of the opportunities that a well-written capstone project can offer. She is enjoying creating change, implementing her original ideas, and promoting the social and economic development of local people through job creation.
As we arrived at our destination, I was grateful for the lessons that the journey offered, as it was both adventurous and informative, affirming my belief that every moment is an opportunity for learning.
As the ancient African adage goes, a long journey starts with a single step. I encourage you to begin your capstone project journey in good time and, like Sister Agatha, may it offer opportunities for you and/or for the community that you dedicate it to.
At the Kroc School, we are educating for peace. Ready to join us? Learn more about the Kroc School and its graduate programs.